PTSA
Cleveland PTSA 23-24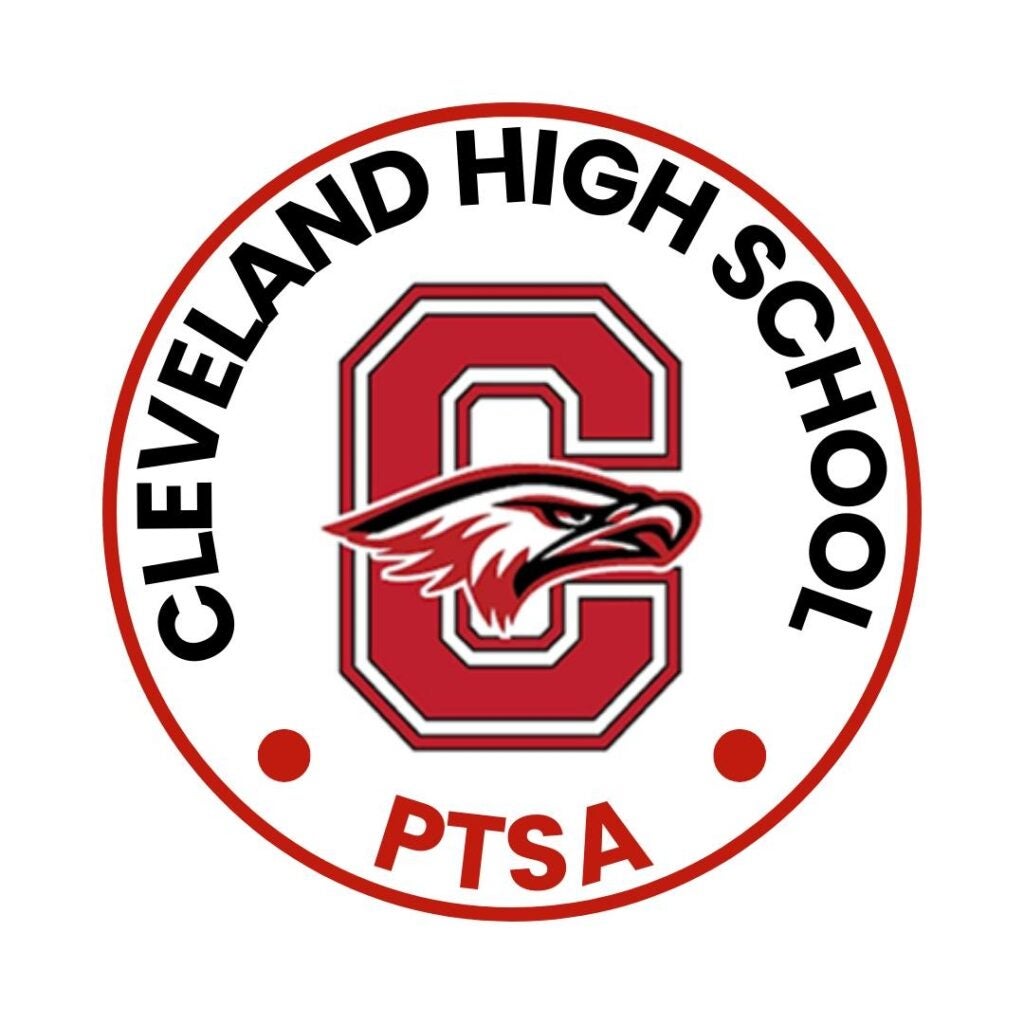 The Cleveland Eagles PTSA is the Parent-Teacher-Student Association of Cleveland STEM High School. The PTSA works to enrich academics and student activities by funding important programs for students and staff, and provide advocacy for all Cleveland students.
The PTSA needs you! There are small and big ways you can support our PTSA.
Join Our Email List
Join our PTSA email list to subscribe to the PTSA newsletter. The newsletter is sent out once a month and provides updates on PTSA activities as well as share information related to the school, programs, or student advocacy with families. You can subscribe or unsubscribe anytime.
Follow on Social Media
Social media accounts share information on a more frequent basis. The Facebook Group allows for discussions among the group members. Find the PTSA on the following platforms:
Attend Meetings
Watch for more information and details about our meeting for the School Year 23-24. We appreciate your patience as we figure out meeting schedule and platform! Everyone is welcome to join — all families, students, teachers, staff, school volunteers — whether you are a member or not. This is a great way to connect with the Cleveland community, get updates from the school administration, and learn about the school and its programs. We are working on providing translation services for these meetings.
Become a PTSA Member
Membership is what keeps PTSAs strong. This year, as we continue to emerge from COVID, the PTSA is also needing to build up again. A minimum of 20 members are required to maintain good standing with the Washington State PTA organization.
Volunteer Your Passion or Your Talents
In order to accomplish the many goals of the PTSA, they need people like you to volunteer. The PTSA is in need of volunteers who can:
Advocate for Cleveland students by attending the Seattle Council PTSA meetings and/or the District 7 PTSA Equity Group
Brainstorm and/or organize fundraising ideas and events (not necessarily an auction)
Find grant opportunities and/or write grant applications
Share or use their expertise to setup and manage the PayPal and Square accounts for donations, or other fundraising platforms
Help revamp the PTSA website
Help post and/or manage the social media accounts
Help contribute to and/or edit the newsletter
Create graphics for the newsletter and social media
Share best practices from their previous PTSA experience
If you have any interest in any of the above, or something else you are passionate about, please connect with the PTSA at chseaglesptsa@gmail.com.
Join a Committee
If you are interested in lending your time and talents for a specific PTSA committee, please contact us at chseaglesptsa@gmail.com.
Committees:
Membership
Fundraising
Communications
Events
Senior Gift
Make a Donation
You can also send a check made to Cleveland PTSA and send it to the school:
Cleveland PTSA, ℅ Cleveland High School
5511 15th Ave S
Seattle, WA 98108
Donations fund after school tutoring, student programs and events, athletics needs, classroom needs, teacher appreciation gifts, senior class events and graduation gifts, and much more.
How the PTSA Helps Your Child
Money raised through the PTSA has funded multiple programs and activities benefitting our students. These things would not be possible without Cleveland's PTSA. Sign up to become a member. It all starts with you!