Cleveland HS Alumni PTSA Fundraiser Closed
Posted on: December 1, 2022
Summary: Thank you! CHS Class of 1980. Showing Eagle Pride & Spirit for Every Generation!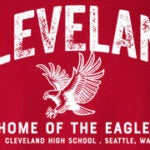 Once an CHS Eagle… Always a Mighty Eagle!
We Did It! Our Custom Ink Fundraising Campaign Has Closed
Your help was needed to support students at Cleveland HS STEM PTSA with critical needs and raise money to help purchase a granite sign for the entrance of the Cleveland HS Memorial Forest. Thank you!
Fundraiser Sponsored by the Class of 80
We Did It! Our Custom Ink Fundraising Campaign Has Closed
The Fundraiser ends on Thursday, November 30- so don't wait, place your order today.
There are a variety of classic CHS color choices (gray, red and white) at reasonable prices, with t-shirts from $20 and hooded sweatshirts starting at $35 (note there is an extra charge for sizes: 2XL, 3XL, & 4XL). Shipping/handling fees and delivery instructions are also on the website.
About this campaign
It's finally here! Get your very own Cleveland High School RETRO T-shirt or Sweatshirt and show your Eagle PRIDE! The class of '80 wants to support Cleveland by supporting their PTSA! We also want to honor our past alumni by supporting our Cleveland High School Memorial Forest!

They would like to help the CHS PTSA raise funds for activities such as: Senior Events, Sports Programs, Extra Curricular Academic Programs, and much more! We'd also like to make a donation to the CHS Memorial Forest as they are celebrating their 80th Anniversary in 2024.
Additional details for how your money will be distributed are explained below. When you purchase a T-Shirt or Hooded Sweatshirt you not only show your support, but also get cool "Classic Retro" CHS apparel, designed by our very own Dana Tsuboi Lim, class of '80. Show your CHS spirit and support with a custom t-shirt or sweatshirt!
---
Additional Details on How Your Donations Will Be Used
40% of proceeds will go to CHS STEM PTSA to help bridge the gap in supporting students in need of special classes, state-wide travel school competitions, participation in sports programs, various school supplies, and other critical needs.
40% of proceeds will go to the Cleveland HS Alumni Association – CHS Memorial Forest to be used for construction, installation, and accessories for a "new" CHS Memorial Forest granite sign at the entrance, as they celebrate and honor the 80th Anniversary in 2024.
20% of the proceeds will be used for reunion activities for the class of 1980.
The Class of '80 strongly believes in giving back to our community and paying it forward to the next generation of students to carry on the legacy of the Mighty Eagles of Cleveland High School and watch over our CHS Memorial Forest; it's just not about our time and talents, but also out of the overflow of our hearts and the Eagles Spirit that allows us to soar high in life!
Additional questions? Please contact: chs80fuzzyeagle@gmail.com
Thank you!
CHS Class of 1980
Showing EAGLE Pride & Spirit for Every Generation!